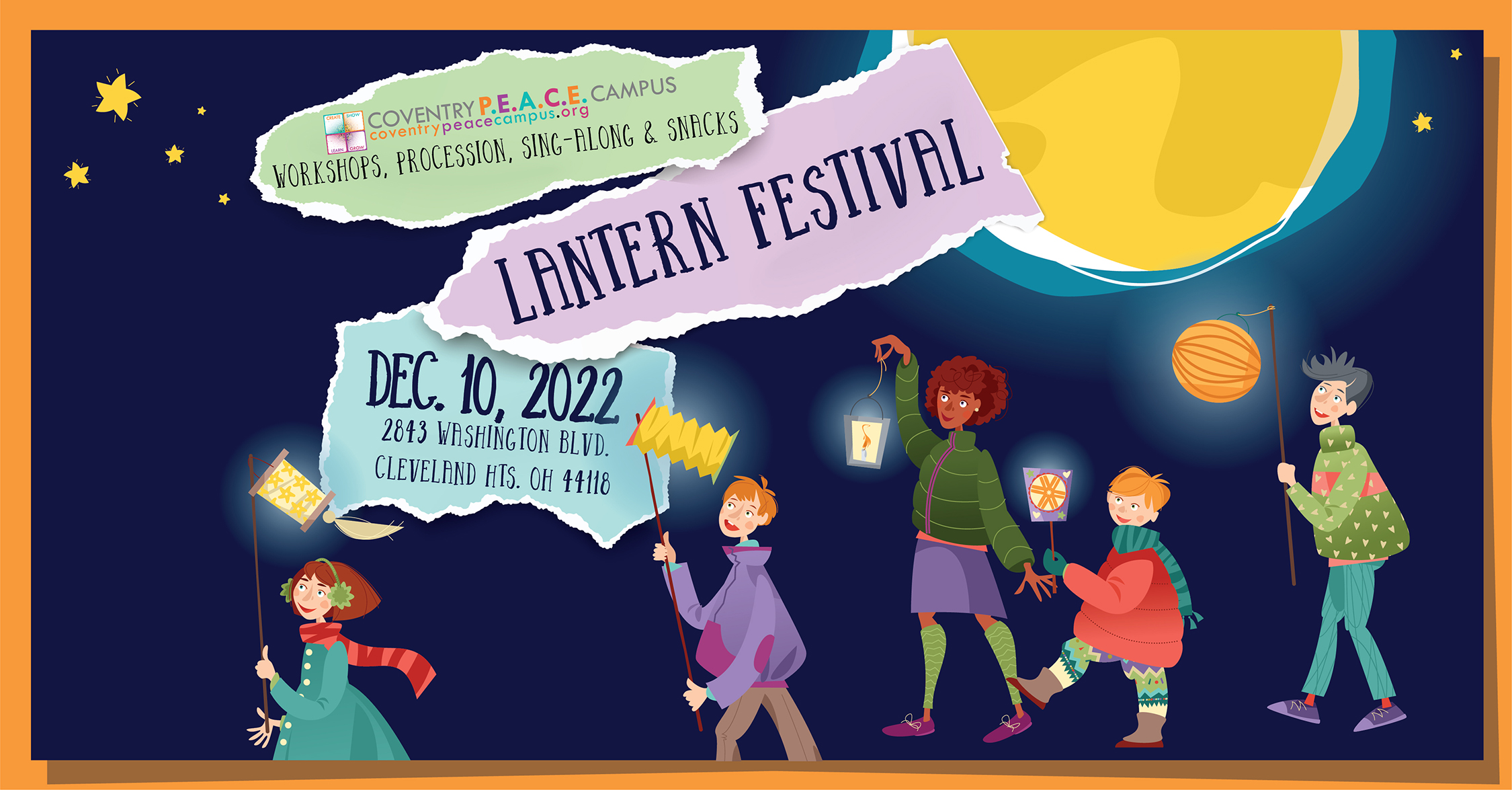 Get in the true spirit of the holiday season - join us for our annual Coventry PEACE Campus Lantern Festival on Saturday, Dec. 10th.
This is a FREE event and perfect for ALL AGES...
we will be hosting afternoon workshops, an early evening lantern procession through the park & down Coventry Road, and then a holiday sing-along and snacks at the Coventry PEACE Building.
3:30 pm: FREE workshops - ALL ages
5:00 pm: Procession through the park & down Coventry Rd.
5:30 pm: Holiday sing-along & snacks back at the Coventry PEACE Building
Come early to make your own lantern… We will be hosting several workshops with artists from ARTFUL and Lake Erie Ink that will assist you in making a creative and beautiful lantern that you can carry in the procession and take home with you. Workshops begin at 3:30 pm.
Join in the holiday procession… featuring live drummers, dancers and larger than life "puppets", we invite you to carry your lantern (either the one you made at our workshop, or a special one that you bring with you) as we make our way through the PEACE Park and the Coventry Village business district. The procession will wind its way back to the Coventry PEACE Building where we will end the evening with a holiday sing-along and cocoa. The procession will leave from the flagpole near the Coventry PEACE Building parking lot at 5:00 pm.
After the procession, come inside to warm up with some cocoa or cider and cookies, and you can  join the Singers' Club of Cleveland in a sing-along of holiday classics. Continue to work on your lanterns, or just sit and relax as we wind down this eventful day. The sing-along and snacks will begin at approximately 5:30 pm.
Our Lantern Festival is held in conjunction with the Coventry Village Holiday Festival. From 11 am - 6 pm, our friends and neighbors in the Coventry Village Business District will be hosting a plethora of events like the Jingle Bell Shop at the Grog shop featuring unique local artists and vendors, free pictures with Santa, live music, cookie decorating & more!
Be sure to join our email list to stay up to date on this, and all of our events.
What is Coventry PEACE Campus?
When the school district sought to divest itself from the former Coventry Elementary School building in 2017, leaving its future uncertain, the leaders of all the tenant organizations and a broad base of community supporters came together in a grassroots movement to propose ways to preserve and grow the thriving culture and service ecosystem that had organically taken root there.From this effort, the Coventry PEACE Campus came into being. Coventry P.E.A.C.E., Inc. is the non-profit overseeing the maintenance, sustainability, renovation and development of the Coventry PEACE Building, which houses several local nonprofits. It is our goal to provide an accessible, sustainable, more efficient, and affordable home for these nonprofits, and to attract new organizations to the building.