How Art Programs Benefit Communities and Businesses.
Arts improve academic performance.
Students with an education rich in the arts have higher GPAs and standardized test scores, and lower drop-out rates—benefits reaped by students regardless of socio-economic status. Students with 4 years of arts or music in high school average 100 points higher on the verbal and math portions of their SATs than students with just one-half year of arts or music.
From: bit.ly/WhyArtsA
Arts strengthen the economy.
The U.S. Bureau of Economic Analysis reports that the arts and culture sector is a $699 billion industry, which represents 4.3 percent of the nation's GDP—a larger share of the economy than transportation and agriculture.
From: bit.ly/WhyArtsA
The nonprofit arts industry alone generates $135 billion in economic activity annually (spending by organizations and their audiences) that supports 4.1 million jobs and generates $22.3 billion in government revenue.
From: bit.ly/WhyArtsA
Arts are good for local merchants.
Attendees at nonprofit arts events spend $24.60 per person, per event, beyond the cost of admission on items such as meals, parking, and babysitters. Attendees who live outside the county in which the arts event takes place spend twice as much as their local counterparts ($39.96 vs. $17.42)—valuable revenue for local businesses and the community.
From: bit.ly/WhyArtsA
University of Pennsylvania researchers have demonstrated that a high concentration of the arts in a city leads to higher civic engagement, more social cohesion, higher child welfare, and lower crime and poverty rates.
From: bit.ly/WhyArtsA
Just look at Gordon Square as an example.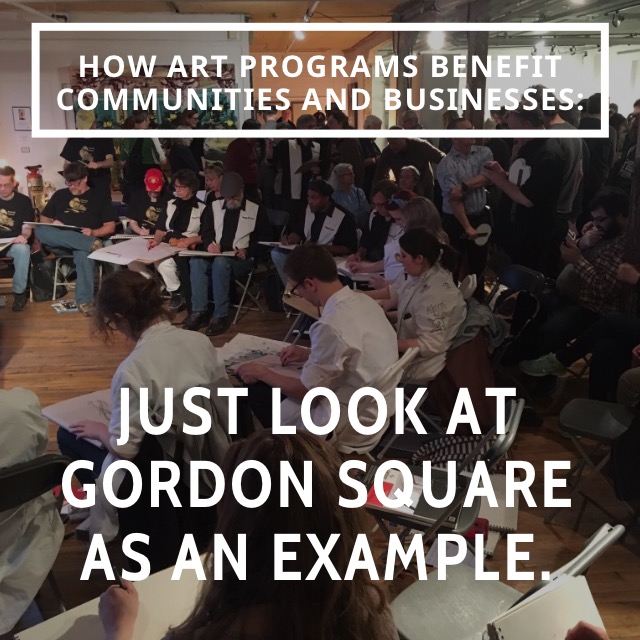 From 2006-2014 the Westside neighborhood alone acquired over 75 new businesses, 520 new jobs, and is expected to gain nearly $500 million in economic development funds.
From: bit.ly/WhyArtsB
Cleveland Heights Has the Greatest Concentration of Artists.
The greatest concentration of all artists is in the near eastern suburbs, centering on the neighborhoods in Cleveland Heights. Most disciplines exhibit high density in the University Circle/Little Italy neighborhood and in the neighborhoods in the "Heights" suburbs (Cleveland Heights, Shaker Heights, and University Heights).
From: bit.ly/WhyArtsF
Employees want to live and work in a vibrant community.
When you partner to support local theater, music, museums, dance and public art, you help to make your community more attractive to current and future employees. Happier employees make for a happier workplace.
From: bit.ly/WhyArtsE
Nonprofit Arts Are a Multi-Faceted Economic Powerhouse.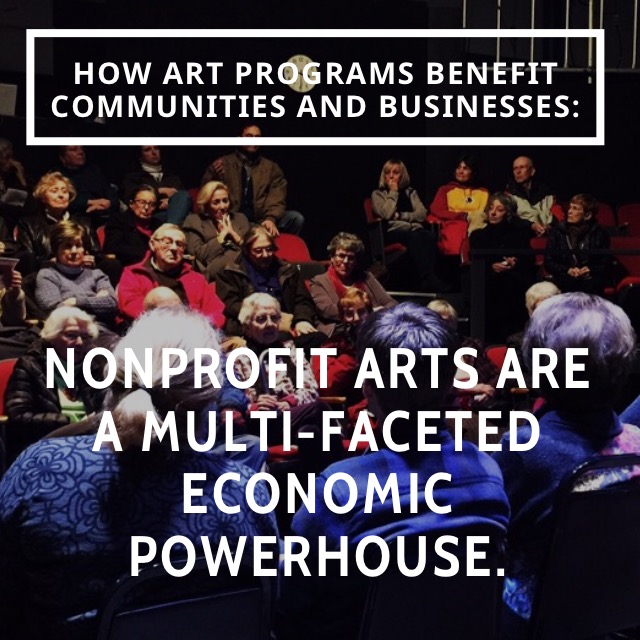 A vibrant arts community not only keeps residents and their discretionary spending closer to home, it also attracts visitors who spend money and help local businesses thrive. In other words, it promotes tourism. Thirty-four percent of audiences we surveyed traveled from outside of the county in which the event took place. This event-related spending was more than twice that of their local counterparts ($47.57 vs. $23.44), and 69 percent of these nonlocal attendees indicated that the primary purpose of their visit was "specifically to attend this arts or cultural event." Among local attendees, 41 percent said they would have traveled to a different community to attend a similar cultural event, if the event they wanted to attend was not taking place in their own community. That's the sort of statistic [I] hope all our local government leaders begin to hear and take notice of.
From: bit.ly/WhyArtsC
The arts and culture industry supported 4.6 million full-time jobs and generated $27.5 billion in revenue to local, state, and federal governments—a return well beyond their collective $5 billion in government arts investment.
From: bit.ly/WhyArtsC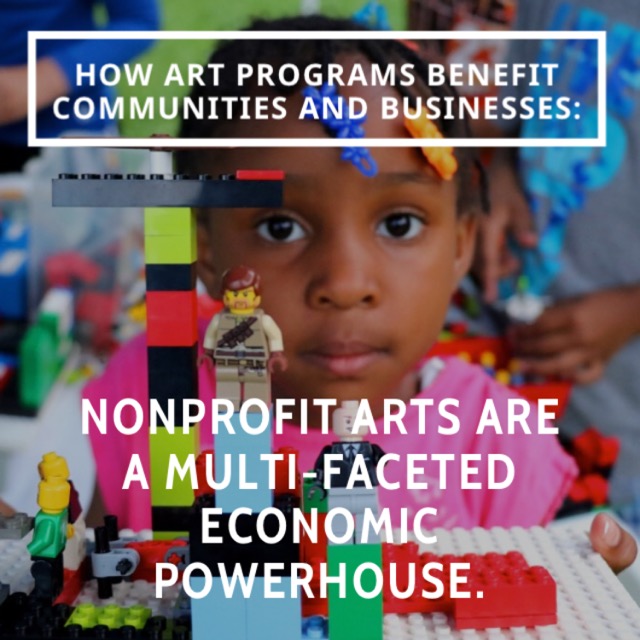 By every measure, the results of AEP5 prove once again that the non-profit arts are an industry—a generator of government revenue, a cornerstone of tourism, and an employment powerhouse both locally and across the nation. Leaders who care about community and economic vitality, growing tourism, attracting an innovative workforce, and community engagement can feel good about investing in the arts.
From: bit.ly/WhyArtsC
Of the $166.3 billion of economic activity generated by America's arts industry, $63.8 billion came from nonprofit arts and culture organizations and $102.5 billion from event-related spending by their audiences.
From: bit.ly/WhyArtsC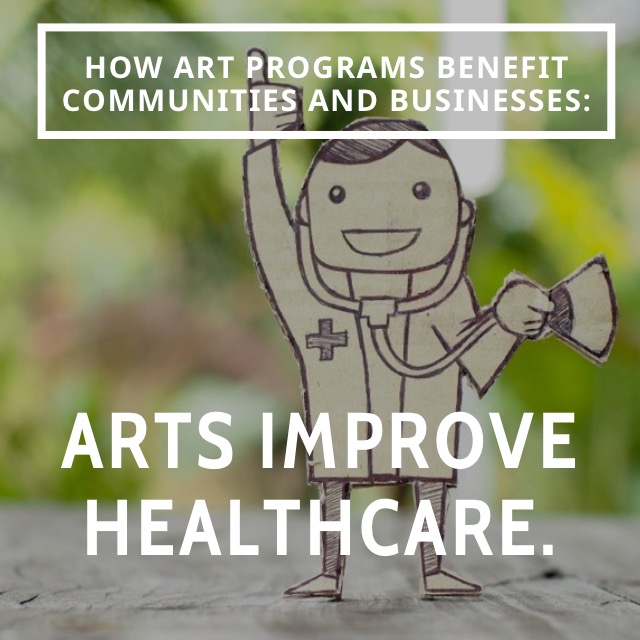 Nearly one-half of the nation's healthcare institutions provide arts programming for patients, families, and even staff. 78 percent deliver these programs because of their healing benefits to patients—shorter hospital stays, better pain management, and less medication.
From: bit.ly/WhyArtsA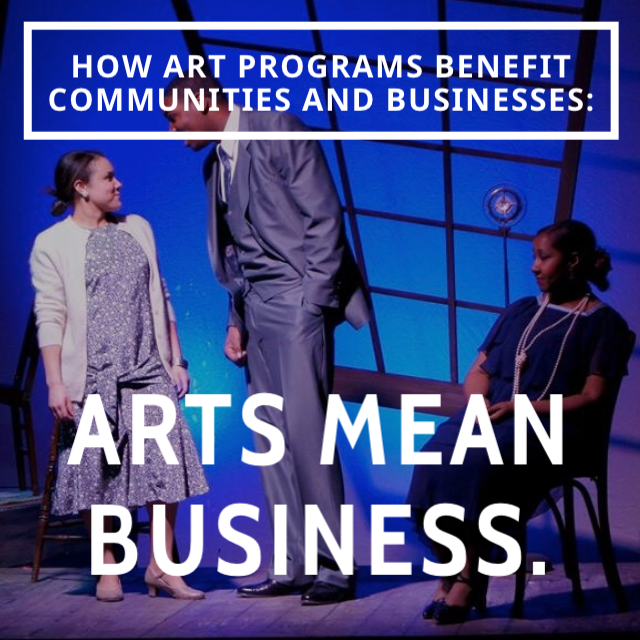 The Creative Industries are arts businesses that range from nonprofit museums, symphonies, and theaters to for-profit film, architecture, and design companies. A 2015 analysis of Dun & Bradstreet data counts 702,771 businesses in the U.S. involved in the creation or distribution of the arts that employ 2.9 million people—representing 3.9 percent of all businesses and 1.9 percent of all employees.
From: bit.ly/WhyArtsA
Arts are an export industry.
U.S. exports of arts goods (e.g., movies, paintings, jewelry) grew to $75 billion in 2012, while imports were just $27 billion—a $47 billion arts trade surplus.
From: bit.ly/WhyArtsA
Arts spark creativity and innovation.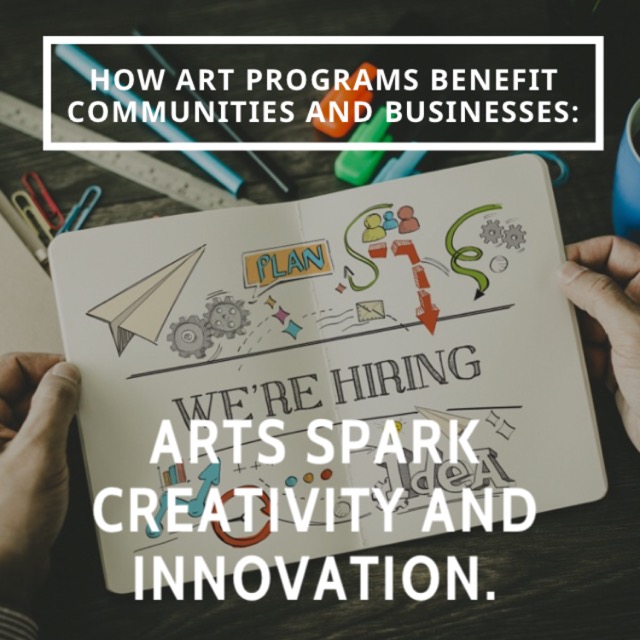 The Conference Board reports that creativity is among the top 5 applied skills sought by business leaders—with 72 percent saying creativity is of high importance when hiring.
From: bit.ly/WhyArtsA
Creative Placemaking Fosters Economic Development.
Creative placemaking animates public and private spaces, rejuvenates structures and streetscapes, improves local business viability and public safety, and brings diverse people together to celebrate, inspire, and be inspired.
From: bit.ly/WhyArtsD
What is Coventry PEACE Campus?
When the school district sought to divest itself from the former Coventry Elementary School building in 2017, leaving its future uncertain, the leaders of all the tenant organizations and a broad base of community supporters came together in a grassroots movement to propose ways to preserve and grow the thriving culture and service ecosystem that had organically taken root there.From this effort, the Coventry PEACE Campus came into being. Coventry P.E.A.C.E., Inc. is the non-profit overseeing the maintenance, sustainability, renovation and development of the Coventry PEACE Building, which houses several local nonprofits. It is our goal to provide an accessible, sustainable, more efficient, and affordable home for these nonprofits, and to attract new organizations to the building.